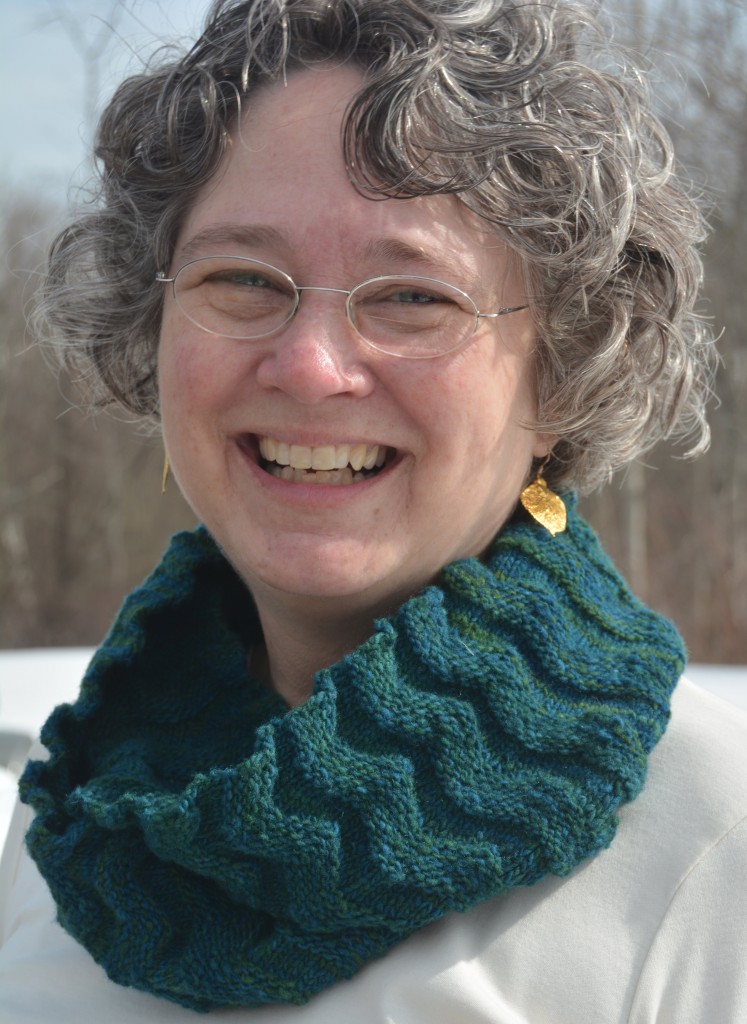 Loop some light and bouncy waves around your neck! Wear as a single loop scarf, or give it a twist and flip it around your neck to have a cozy double layer cowl.
To knit the cowl, you begin with a provisional CO, work back and forth in pattern stitch to length desired, and graft with Kitchener stitch to form a continuous loop. Of the 12 rows involved in the pattern stitch, 9 of them are a plain knit row or a plain purl row.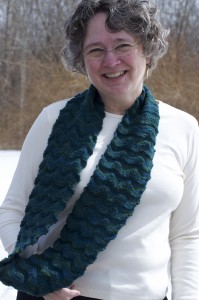 Pattern is two pages long and pattern stitch is given in written form only – no charts. Difficulty level is appropriate for a knitter who can knit, purl, work increases and decreases, and keep track of pattern rows. Directions for a crochet provisional cast on and for working Kitchener stitch are included in the pattern. As with all my patterns, it has been test knit and professionally tech edited too be clear and free of errors.
What you need:
* Briggs and Little "Lite 'N Fancy" Softspun (100% pure wool; 240 yds/ 219 m per 2 oz/ 57g skein); 2 skeins. Shown in color 105 – Rainforest. **Or** approx. 290 yds/ 264 m of similar, light, airy, sport weight wool. Exact yardage will depend on length knit. Each 240 yd skein of Lite 'N Fancy will knit 40 in/ 102cm.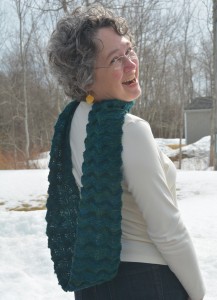 * 1 pair of knitting needles **in size required to obtain gauge**. I used US#4 / 3.5mm needles. You may need a size or 2 larger or smaller.
* approx. 1 yd/ .9m smooth scrap yarn for provisional CO
* Crochet hook – size G/ 4mm
* 1 dpn for use in grafting
* large eyed blunt tapestry needle
Pattern is available in my Ravelry Store.