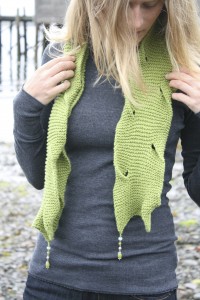 This scarf was inspired by the tidal cove across from my home. Three-dimensional folds give it an almost organic form, while also representing the rhythmic movement of the sea as the tide comes and goes. It is an engaging and deceptively easy knit, and the basic folding technique can be endlessly varied.
The scarf shown was knit with less than 270 yards of dk weight cotton at a gauge of 4.5 sts/in on US #6 needles, though it looks terrific in any gauge with any type of yarn. You will need to use a 16 in circular as well as a pair of straight needles. You can be creative and use assorted beads, charms, feathers, shells, tassels, or other fun stuff to adorn your scarf.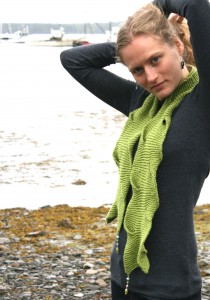 This design is suitable for an advanced beginner, requiring only casting on, knitting, binding off (casting off), and counting rows in garter stitch. The pattern consists of three pages with detailed photos and has been professionally tech edited and thoroughly test knit.
Buy this Pattern from my Ravelry Store.