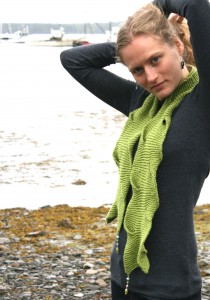 Ok – I'm just showing off my beautiful daughter in this photo – but look! she's wearing my new scarf design! I have had this design finished for a while but was hanging on to it thinking I would submit it to one of the knitting magazines. After some discussion with other designers about the pros and cons of publishing that way, I decided that I really did want to stick to self publishing my designs for the foreseeable future. As Knitwise Design I have complete control over the whole process, from design inspiration to every word in the directions. I really like having this control – especially being able to make the final pattern directions as error free as possible, not something the magazines are known for. Plus, I had these terrific photos!
I had a lot of fun experimenting with the concept of three dimensionality while designing this scarf and am thrilled with the results. There are multiple ways to play with and modify the basic design. I am excited to see the creative variations knitters will come up with!
You can see some more cute photos of my daughter, I mean of the scarf, and get more information about the pattern, on the Tidal Cove Scarf pattern page, and also in my Ravelry Store.