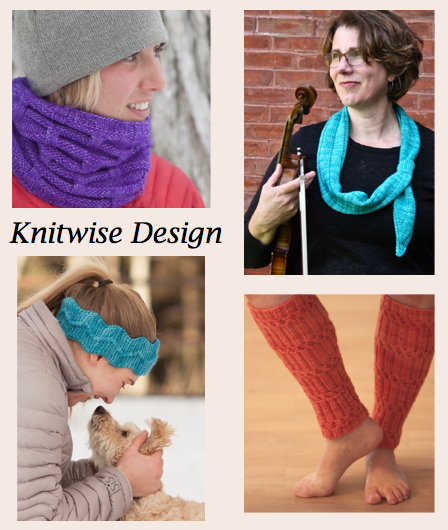 It's March again! Some may think March is all about college basketball, but knitters know it as Malabrigo March!  As usual, the Ravelry group "Malabrigo Junkies" is hosting an event with knit-alongs, prizes (many donated by Malabrigo!) and lots of fun. To join in the spirit of the event, my Ravelry Store patterns are 20% off with code MM18 from now through March 15th (2018) and there is a thread for other pattern sale promotions. The group also hosts a good buy/trade thread for Malabrigo yarns.  If you love Malabrigo yarn then you would enjoy this group all year long.
This year I have four designs that were created specifically for Malabrigo yarns, including my newest release: "Warm Weave Cowl". It uses just one skein of luscious Malabrigo Merino Worsted – an aran weight yarn that makes for a quick knit. The sculptural texture pattern is quite easy to work with just knits, purls, and slip stitches. You can read more about it HERE.
Other designs highlighted in the collage are "Perfect Pitch Scarf", in Silky Merino, "Shapely Legs Legwarmers" and "Winding Trail Headband", both in Worsted.