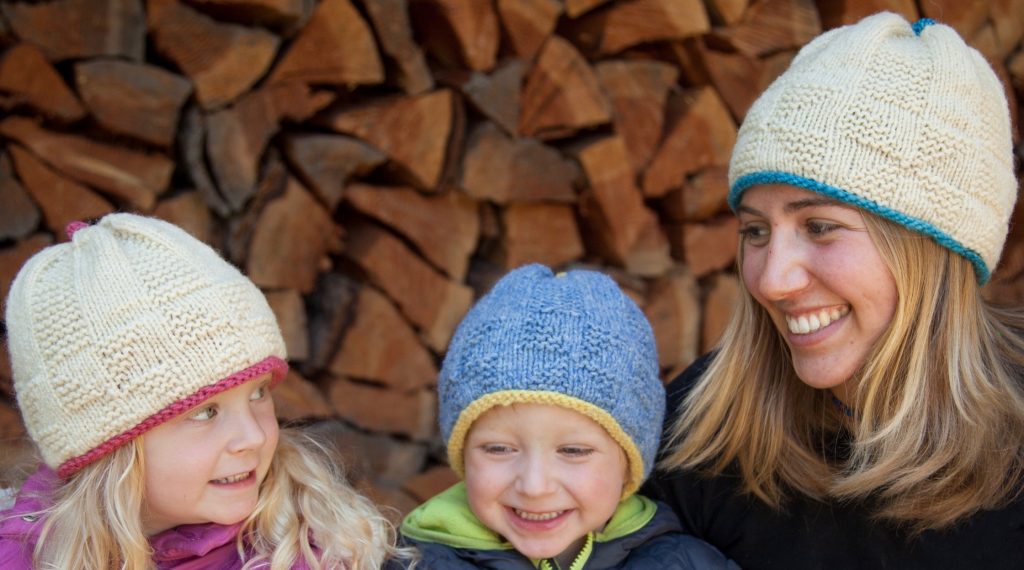 You may have noticed a theme in my designing – I am obsessed with being warm! I suspect that comes from living in Maine, where the wind and temperature can combine to make you seriously miserable. This new design – Family Whirlwind Hat – gets top ratings for keeping ears warm. The secret is the double layer brim to add both coziness and wind blocking. Another advantage of this feature is that it makes it possible to use the warmest wool possible for the exterior – no matter how rustic – and then knit the brim lining in a softer, next to the skin type of wool, or even cotton for the extra sensitive.
I wanted this to be a pattern to be used over and over – knit a warm hat for everyone in the family with the 5 sizes included. My son, Joe, was my photographer again on this design and got adorable photos despite the kids having to be bundled up in heavy winter coats on the hot Summer day of the photo shoot.
But the weather has changed! Right as I released this pattern our temperatures plummeted from above average for November to below average – down to the teens at night. Today I grabbed the adult sample hat for my morning walk and it really did the job!
Do you know someone that wants warm ears? You can check out more about Family Whirlwind Hat, and see some more photos, here or in my Ravelry Store.