One of my favorite yarn companies is Malabrigo Yarn. Their yarns are hand dyed in Uruguay in some of the most beautiful colorways you can imagine! And soft – oh my!! The Malabrigo Junkies Ravelry group puts it bluntly: "Yes, Malabrigo IS like sex in a skein…" So needless to say, I was thrilled to have one of my designs chosen for their "Malabrigo Quickies" program! Here is how they describe "Quickies":
"Quickies are small, fast projects which require only one or two skeins of yarn. Approximately every two weeks we're teaming up with a talented independent designer to present an exciting new accessory (or other "small object") pattern, showcasing one of our many yarns and colorways."
I was chosen months ago for this February release time slot. I felt like quite the important designer when I received the yarn delivered straight from Uruguay! I have needed to keep my design under wraps through the whole process. I even needed a test knitter who would keep it secret! But today it is live, and will be promoted with other "Quickies" on Malabrigo's website!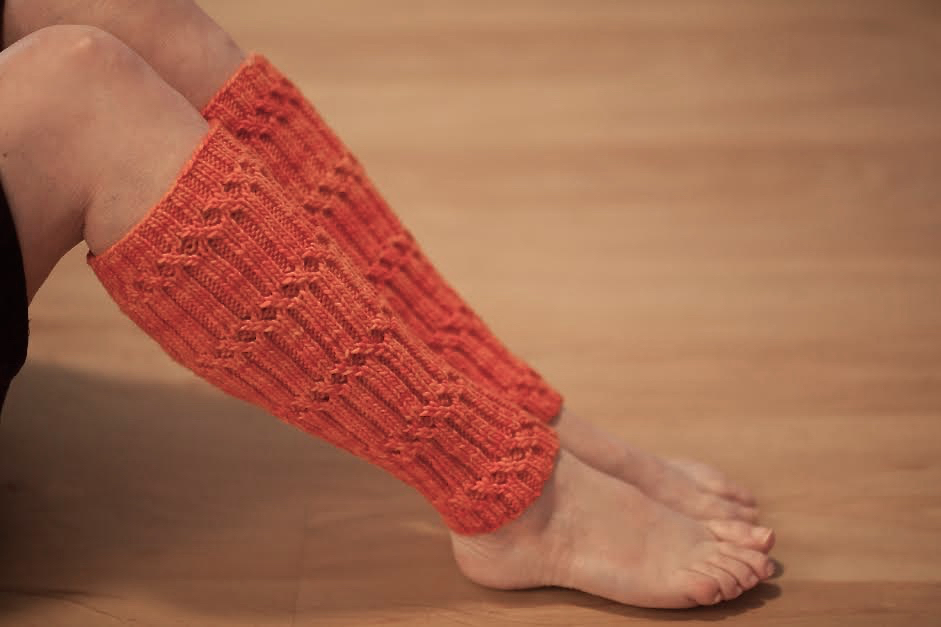 Shapely Legs Legwarmers grew out of a desire to wear legwarmers that didn't bag and make my legs look chunky! The increases from ankle to calf grow organically out of the ribs and twisted stitch diamonds that hug the leg. The Malabrigo Merino Worsted feels incredible on bare legs!  You can see more photos HERE.
Alex, at Malabrigo, has been wonderful to work with, and didn't mind answering some of my newbie questions.  I keep control of all aspects of the pattern and publishing – which is important to me, but they provide the yarn and give the pattern a boost with publicity on their blog, website, and other social media. I just recently sent in a proposal for the coming year's "Quickies" program and am so excited to announce that I have also had a design accepted for a spot this October! But until then – it's a secret!
You can take a look at other Malabrigo "Quickies" HERE. "Shapely Legs Legwarmers" can be purchased in my Ravelry Store, or Etsy.