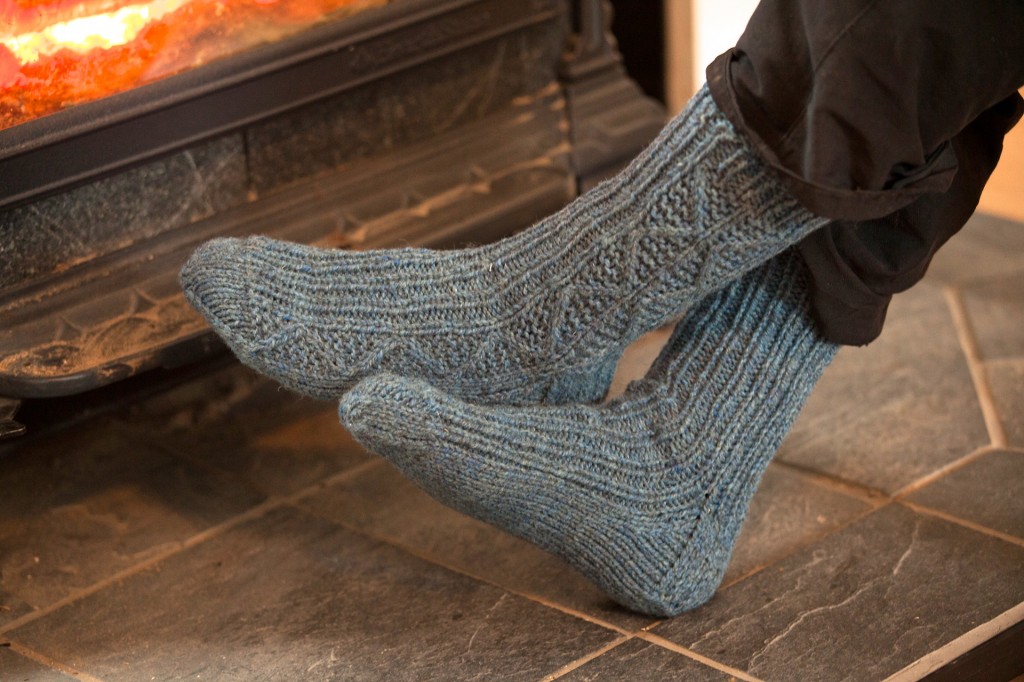 My first pattern for the year is a great pair of heavy wool socks! My teenage grandson, Cameron, requested a pair for Christmas and I designed these in response. My two sons came up to Maine on New Years and did the photo shoot for me. That's why the photos are so good! I had been imagining photographing the socks outside in a camping kind of atmosphere, but the weather was so amazingly cold – not getting above zero degrees fahrenheit all day -and windy – that we had to come up with something else out of fear of frostbite! I love the photo by the wood stove – we were all huddled next to it for the whole visit anyway!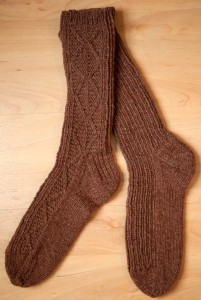 I  knit the blue pair specifically for the official pattern photos. Here is the brown pair I knit for my grandson – they are huge! He wears a size 12 1/2 wide men's shoe, and I added an extra repeat of the leg pattern to make them tall enough to come up over his tall boots.  Needless to say, the pattern covers sizes from small (to fit foot circumferences of 8 inches) to extra large (to fit foot circumferences of 11 inches). The length of the foot can be as long as the shoe size requires, no matter the circumference size. Hopefully this range of sizing covers most teens and adults!
This pattern represent a big milestone for Knitwise Design. I received yarn support from Briggs and Little to knit the sample pair! This is really huge, as paying for yarn, on top of professional tech editing for each pattern, is a very large expense. I am hoping to continue my relationship with Briggs and Little as I enjoy their yarn line. I am also hoping to develop relationships with some other yarn companies as I continue to have a larger category of published designs.
Check out more photos and information about Cam's Camping Socks on the pattern page HERE, or in my Ravelry Store.