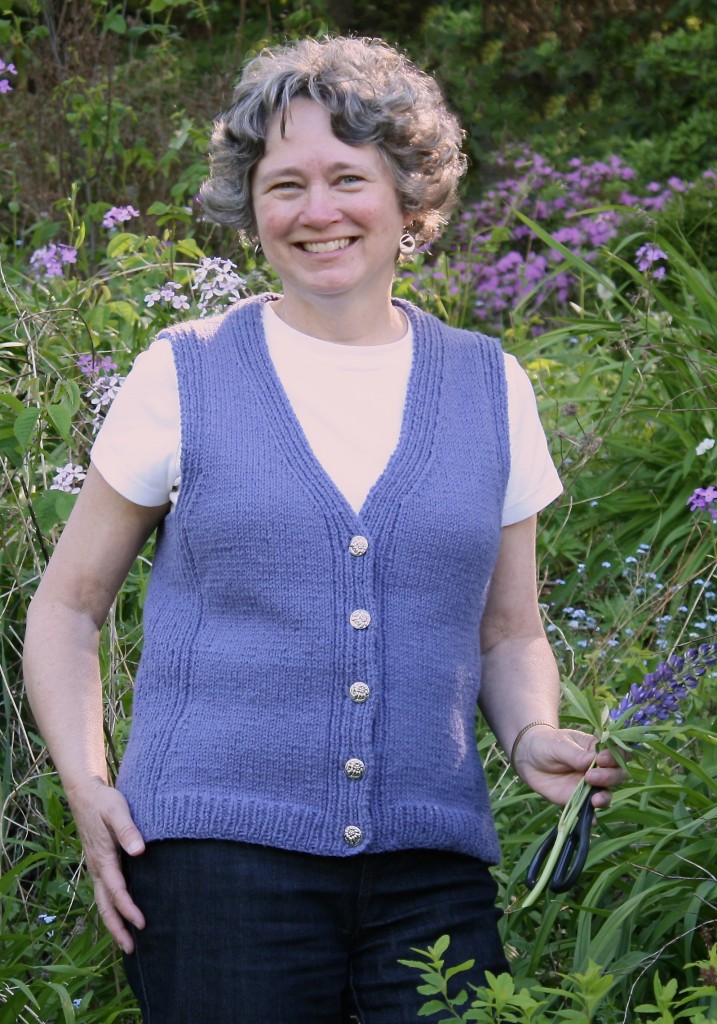 I started working on Jo-Jo's vest back in the very beginning of the year, thinking of it as an April birthday gift. Well that didn't happen! I had a concept of a basic wardrobe staple: a wool vest to wear 3 seasons of the year – actually 4 seasons here in Maine. It would be seamless, and with integrated bands so there would be no picking up all those stitches around the front and the armholes. I also wanted it to have some shaping, but not the severe shaping so many designs have today. I wanted it to be flattering for women of all ages and shapes, so decided on subtle waist shaping  (for those of us with subtle waists) and a size range of seven sizes – up to a 58 inch finished bust. I chose one of my favorite basic yarns, Briggs and Little Heritage, and started swatching. Seeing as this is September, you probably guessed that it didn't go easily! I never made so many swatches for a design; testing out every detail multiple times. I had purchased an extra skein just for swatching, and ending up frogging swatches to get more yarn for swatching.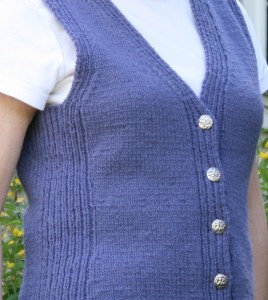 I also made the decision to draft and grade this pattern using a spreadsheet for the first time; really the only sane way to approach grading garments. So I began to work with Excel. I have only two words to describe the frustration of the next couple months – learning curve! But the good news is that I did learn it and am now pretty comfortable with a method that should make life easier in the future. I highly recommend Faina Goberstein's Craftsy course: Sizing Knitwear Patterns. Learning Excel is one thing, but adapting it to pattern drafting and grading is a pretty specialized use.
I am happy to be able to report that the result of all this work is a design and a pattern that I am just thrilled with! In fact, I enjoy wearing it so much that I am a not looking forward to gifting it away at Christmas. I have already bought the yarn to make another one for myself. Three of my testers on Ravelry have also expressed that they are planning a second one. The consensus seems to be that Jo-Jo's Vest fulfills my original desire for a flattering wardrobe staple that is quick and interesting to knit.
You can see more details about Jo-Jo's Vest on the pattern page here, or on Ravelry.